Bedale Town Council maintains a number of green spaces for the enjoyment of Bedale residents and visitors. There are also a number of walks in and around the town to explore.
Bedale Park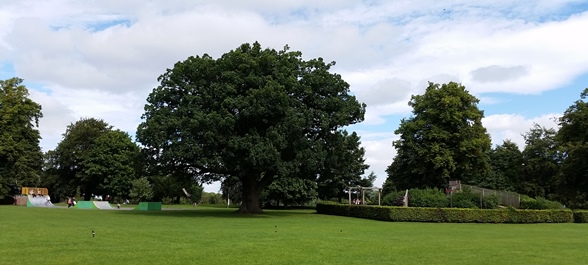 Bedale Park was once part of the parkland belonging to Bedale Hall. It contains many beautiful mature trees and a handsome bandstand standing beside the magnificent facade of Bedale Hall. The Bandstand, donated by a generous resident who was keen to encourage local musical talent, was installed in 2015.
There is also a delightful children's play area, a skate park, and an 'outdoor gym' for those of all ages wishing to keep fit. A number of Personal Trainers and Fitness Coaches also run exercise classes in the park.
[[f you are a personal trainer and would like to run classes in the park, information is available here.]
If you would prefer to simply walk around the Park, look out for the historic ice house, which served Bedale Hall when it was a private house and can be seen among the trees at the edge of the park (Please note it is on private land and is not accessible to the public).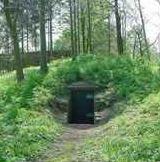 The Ice House
Many people follow the footpath around the edge of the park enjoying the fine views of Bedale Hall and St Gregory's Church. For those that fancy a slightly longer walk, a tree-lined path leads from the south-west edge of the park for half a mile along the edge of the adjacent golf course.
Throughout the Spring and Summer, Bedale Park is used for many public events. Every Saturday morning from March to October it plays host to the Bedale Car Boot Sales and at the start of November it hosts the Bedale Bonfire and Fireworks event.
If you would like to use the Park to stage an public event or for private or commercial use please contact the Council.
Wycar Green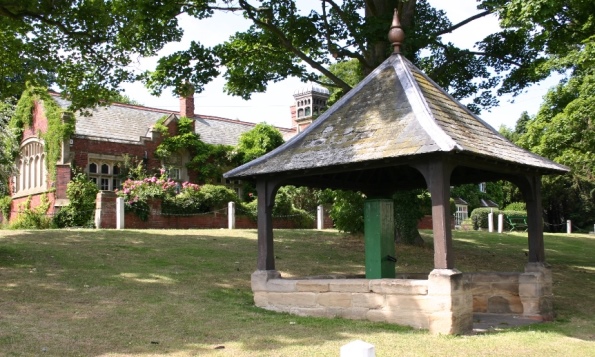 Wycar Green is an attractive triangle of grassland behind the Market Place on the South side. The old town pump (pictured) stands in the middle of it, and at its south side is the "new" old Grammar School, now a private residence.
Beckside & Harbour

If you go down Bridge Street and turn left at the Bridge, there is a well-kept path for a mile or so along Bedale Beck. A short distance along is "the Harbour", a weir and sluice gate which is the remnant of a Victorian plan to make the Beck into a navigable canal cpnnecting the rivers Ure and Swale. Across the Beck is Bedale's historic Leech House.
Southfields Public Open Space and Play Area
This is a large grassy space in the middle of the Southfields estate, containing a play are for younger children
Burrill Road Public Open Space
Opposite the south end of Bedale Golf Club is this large open space, much used for dog-walking and informal children's games by residents of the adjacent estate and visitors.