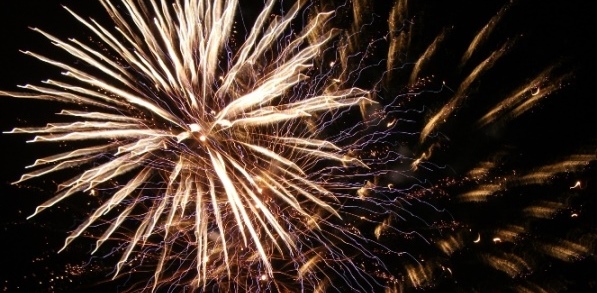 The Bedale Bonfire and Fireworks Display takes place every year to celebrate Bonfire-night. Located in historic Bedale Park with the imposing facade of Bedale Hall as a backdrop, residents and visitors are treated to a spectacular firework display and the warmth of the Bedale Bonfire.
The display is often set to music and young and old alike can enjoy adding their contribution to the event with novelty torches and lights which are available on the night.
The display has always been free and open to all. However on the night stewards take up a bucket collection to pay for next year's display. If you enjoy the event then your generosity will help to secure the spectacle for another year.
This year's event takes place on Saturday 4th November 2017.
The Bonfire will be lit at 6:30pm and the Fireworks display will start at 7:00pm and will last around 20 minutes.
Locals to Bedale and Aiskew are encouraged to make the night more enjoyable by leaving their cars at home and walking to the event. Event organisers hope that this will boost community spririt as families walk together through the town and that it will reduce congestion caused by too many cars clogging the streets of Bedale.
The event is usually very well attended and parking near the Hall and in Bedale town can be very busy. Please be considerate where you park and ensure that your car does not cause an obstruction to pedestrians or to other cars.